Disponibile dal 3 Dicembre, il nostro nuovo album dal titolo "Now and Again".
Sarà disponibile anche in versione digitale a partire dal 2016.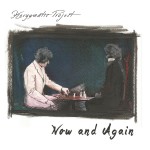 Ecco la tracklist:
01) Till the End of Time
02) Now and Again
03) Love and Destiny ( 遼と香の歌 )
04) From Jekill to Hyde
05) The Experience of Life
06) Doggy Way
07) The Ultimate Fight (the last post-atomic enterprise)
08) 1979: One Day Amoong the Jerks
09) Book of Memories
10) Welcome to My World
11) Dreaming in the Garden of Heaven
12) Driving Along the Highway
Ed ecco i nuovi videoclip.
Buon ascolto!
The Ultimate Fight (the last post-atomic enterprise)

Love and Destiny ( 遼と香の歌 )

Now and Again