Available since December 3, our new album "Now and Again".
Also in digital format starting January 2016.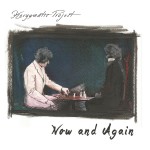 Tracklist:
01) Till the End of Time
02) Now and Again
03) Love and Destiny ( 遼と香の歌 )
04) From Jekill to Hyde
05) The Experience of Life
06) Doggy Way
07) The Ultimate Fight (the last post-atomic enterprise)
08) 1979: One Day Amoong the Jerks
09) Book of Memories
10) Welcome to My World
11) Dreaming in the Garden of Heaven
12) Driving Along the Highway
And now… the videoclips.
Enjoy!
The Ultimate Fight (the last post-atomic enterprise)

Love and Destiny ( 遼と香の歌 )

Now and Again