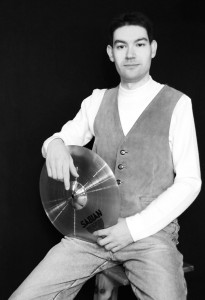 Danilo Nobili, multifaceted artist engaged for several years in the production of audiovisual projects, drummer, percussionist and composer, was born in Vigevano, October 10th, 1978.
During his studies in art at the high figurative school "Felice Casorati" of Novara, he got involved in the study and development of computer music. In 1992 he took part in the founding of SaDan, with Sandro Pavesi, creating a musical project dedicated to the musical typology grown in those years.
In 1994 he devoted himself, by himself, to study drums and percussion, a passion that led him to enroll at the Musical Institute "L. Costa" in Vigevano, where he was able to refine the techniques of the instrument.
In the summer of 1996 he met Samuele Tadini, bassist, singer and composer, with whom he began an intense musical research that led to the realization of some songs that already, at least in the essential features, were what slowly would characterize Kerygmatic Project. In 1997 he founded, with Fabio Ubezio, guitarist and singer, the band called Organica, experience ended in 2000.
From 2001 to 2004 he studied music under the guidance of Gabriele Comeglio at the same Institute of Music, where he had an interest in jazz and classical music in their respective orchestras in the "Costa L." in Vigevano.
He graduated in media languages and is expert in cinema. He is also a director, editor, photographer, cameraman and graphic designer.
In the summer of 1998 he established, with bassist and singer Samuele Tadini, and keyboardist Marco Campagnolo, Kerygmatic Project, a group originally known simply as Kerygma, creating a wide-ranging musical and cultural experience.
Favorite drummers
Roger Taylor (Queen), Dave Weckl, Bill Brufford (Yes, King Crimson) Carl Palmer (Emerson, Lake & Palmer), Stewart Copeland (The Police), Phil Collins (Genesis), Chester Thompson (Weather Report, Genesis), Hiroyuki Noritake (T-Square), Simon Phillips (Toto), Jeff Porcaro (Toto).
Groups and artists that have contributed to his formation
Queen, Genesis, The Police, Emerson, Lake & Palmer, Yes, Enya, Vangelis, The Beatles, Pink Floyd, Sting, Phil Collins, Peter Gabriel, The Alan Parsons Project, Toto, T-Square, Asia, Ennio Morricone, John Coltrane, Miles Davis, Duke Ellington.
Director, editor, photographer, cameraman and graphic
He currently works in co-operation at the "telePAVIA" broadcaster television studios.
Interests and film making
His movie maker career was reflected in the production of a short film and a film called Frames, which has already raised interest of public and critical acclaim.
He is a big fan of the video games art and is a collector of the consoles that have done the history, by focusing mainly on retrogaming part.